invader | … third born, jun. 2008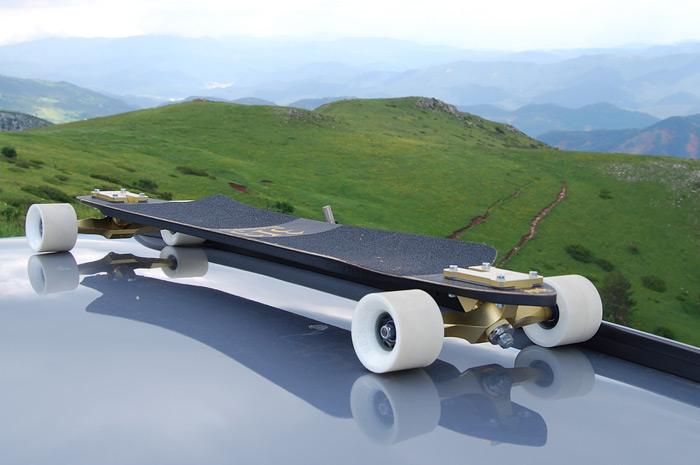 downhill prototype
März bis Juni 2008
Unser drittes Eigenbauprojekt, wieder aus einer Not heraus: wir brauchten neue Downhilldecks für Alex und Pete.
Diese beiden Bretter erregten Aufsehen auf Rennen und im Internet aufgrund ihrer Konsequenz in der Vollcarbon-Bauweise und ihrem neuartigen Shape.
Unser Anliegen war es, ein radikal leichtes Deck mit hoher Steifigkeit und damals völlig neuen Ideen zu Concave, Shape und Schlagschutz zu entwickeln.
Es war "ein Schuß – ein Treffer" (Zitat Alex), was uns dann letztendlich dazu bewog, dieses Deck auch auf Anfrage zu produzieren und zu verkaufen, sowie ein Racingteam zu bilden.
March -> June 2008
Our 3rd home made project – we needed downhilldecks for alex and pete.
These two boards caused a sensation on races and in the internet, at least based on the full-carbon-construction and new shape-designs.
But our goal was to develop a radikally leightweight deck with high stiffness and totally new ideas back then in concave, shape and impact protection.
"One shoot -> strike" (Alex) so we decided to build them to order and founded our racingteam.
ultralight
ultrastiff
no torsional flex
highfunctional boardshape
cutting-edge concave
carbonfiber only
hybride core construction
polycarbonate bumpers
triple torsion box
heat-tempered epoxyd matrix
INVADER topmount
weight: 1040 g (2.3 lbs) lenght: 1035 mm (40,75″)
width frontfoot: 230 mm (9,05″) width waist: 190 mm (7,5″) width backfoot: 250 mm (9,85″)
wheelbase: 820 / 788 / 750 mm (32,3″ / 31″ / 29,5″)
graphic: silver leaf
INVADER dropthrough
weight: 960 g (2.1 lbs) lenght: 1035 mm (40,75″)
width frontfoot: 230 mm (9,05″) width waist: 190 mm (7,5″) width backfoot: 250 mm (9,85″)
wheelbase: 820 mm (32,3″)
graphic: gold leaf