bird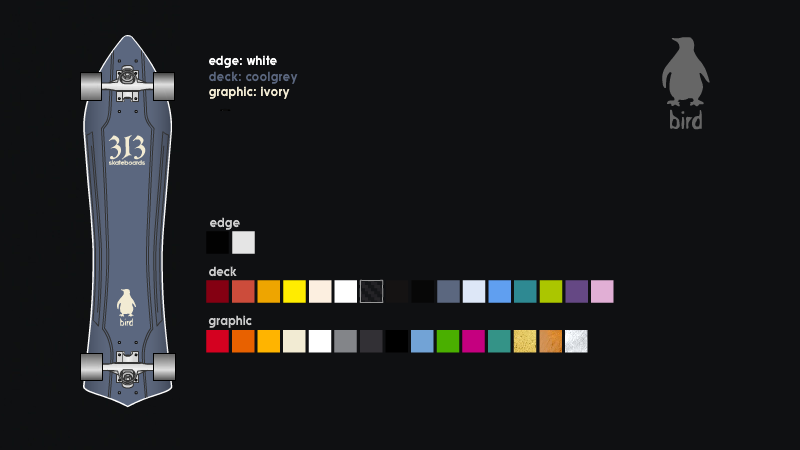 Stadtguerilla – Hardcarving – Citybombing
Fußgängerslalom – Technischer Downhill
Features:
Foamcore / Sandwichbauweise
progressives Concave von moderat bis steil an den Stellen wo es darauf ankommt
integrierte Handrails für die volle Kontrolle beim Grabben
Multiaxiale Glasfaserkonstruktion für hohe Torsionsteifigkeit
Carbon-Zuggurt für minimalen Flex
ABS-Kante, Nose und Tail für optimalen Einschlagschutz
ABS Inserts an den Achslöchern für optimalen Schraubensitz
eingefärbte Epoxydmatrix mit vielen Farboptionen und Schönheit im Detail
hitzegehärtet
Klarlackfinish einbrennlackiert
100% handgefertigt
Gewicht: ca. 1150 g
Preise:
Sorry, zur Zeit produzieren wir keine Decks.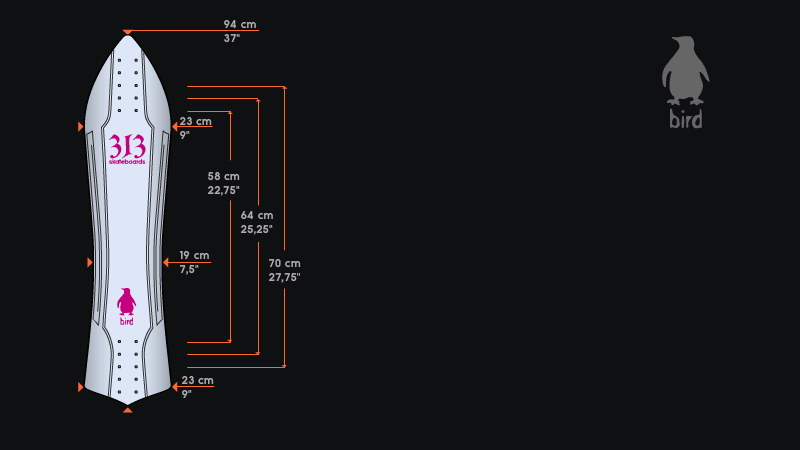 The Bird – a versatile hybrid:
DH meets Slalom for aggressive Cruising and citybombing.
Features:
progressive concave from mellow to steep
integrated handrails for full grabbing control
multiaxial glasfiberconstruction for torsional stiffness
carbon-sheets to minimize flex.
ABS-sidewalls for crashprotection
ABS-nose and tail
ABS inserts an the mountig holes to prevent screwsucking
colored epoxy matrix with various options
heatcured and heat-varnished for best thermal and UV-Protection
100% handmade in germany
weight: appr. 2,5 lbs
Prices:
Sorry, we don`t produce decks at the time.